Overview of the Pig Market in China in 2023 (January to September)
The total sow population in China right now is (officially) around 45 million sows with two production models coexisting: large, integrated farms and family farms.
While last February we were estimating that the total sow population in China was somewhere between 35 to 40 million heads, right now that figure is (officially) around 45 million sows. Two production models coexist: large, integrated farms and family farms.
The top 50 pig producing enterprises have a total output of about 250 million pigs, and, from January to September, 13 enterprises slaughtered a bit more than 100 million pigs (see Figure 1). The top 3 (Muyuan, Wens and New Hope) represent 76% of that total.
Figure 1: Sales status of Chinese listed companies for the first 9 months of 2023 (in number of heads)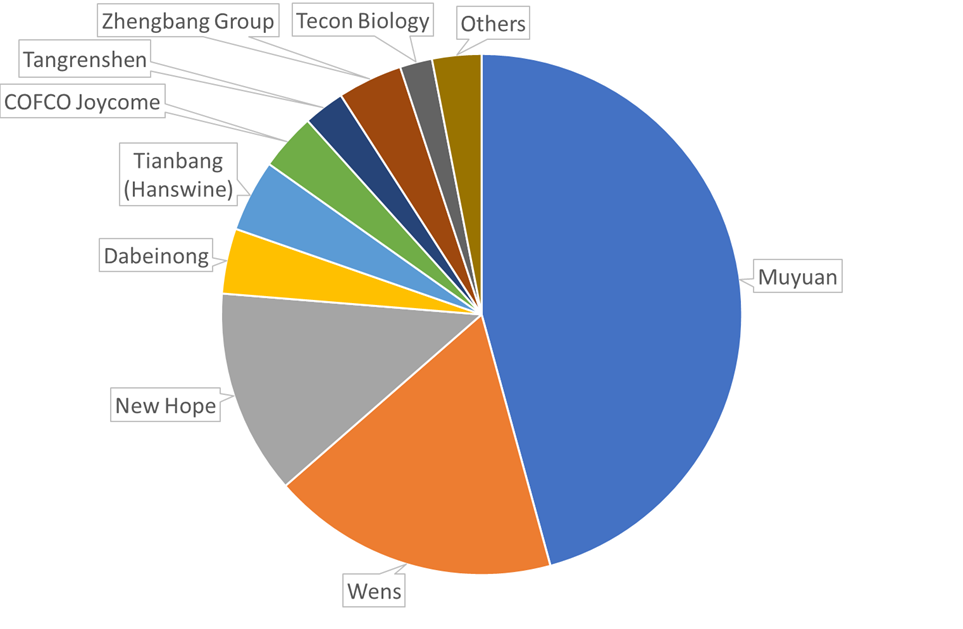 As shown in Figure 2, most of the listed companies have been increasing their production in the first nine months of 2023 when compared to the same period in 2022. Overall, the top 13 companies have slaughtered 18% more pigs than last year. The highest increase was for Muyuan (nearly eight million heads more) followed by Wens and New Hope (+5.5 and +2 million, respectively) while Zhengbang Group had a massive drop of more than 4.3 million heads (-51%).
Figure 2: Sales status of top 10 Chinese listed companies in 2023 vs. 2022 (million heads)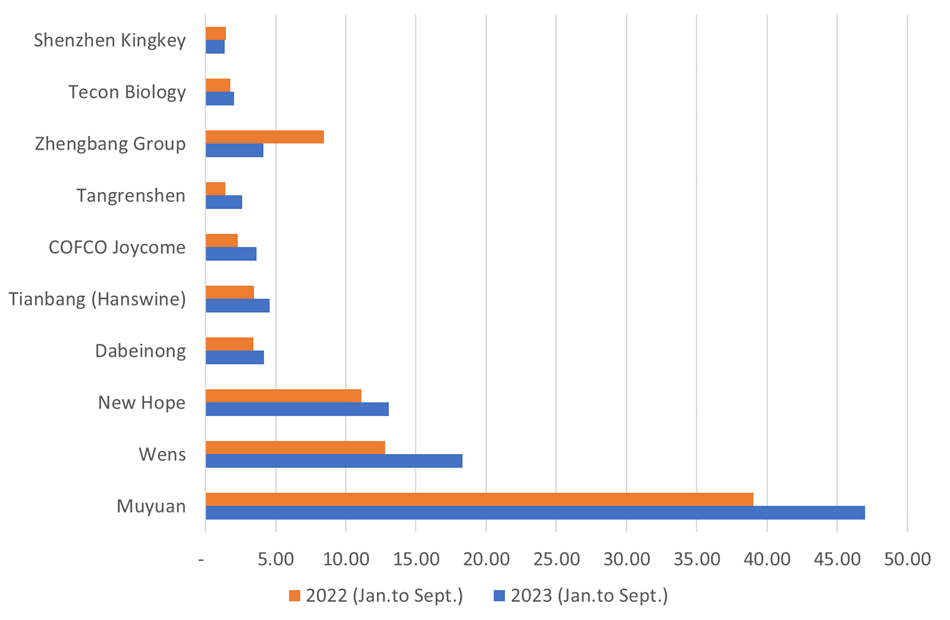 However, the whole pig industry is suffering losses for this year. In September, 13 enterprises are reporting a total loss of more than RMB 17 billion (€2.2 billion). We should not exclude that some players will disappear due to bankruptcy or merging.
A few points to consider:
China has a population of 1.43 billion, the reasonable demand is about 600 million pigs per year
Piglet prices have been falling continuously since July, and the current price is RMB 120 per head (€ 15.5)
Pig prices are currently below RMB 16 per kg (€ 2.07)
Motivation and willingness of producers (both integrated and family farms) to build inventory is low
We expect that the pig price should be returning to more healthy levels in Q2 of 2024, after reduction of overcapacity in the end of 2023 and the beginning of 2024
Based on the current poor pig market condition, major scale farms strive to lower their costs and try to extend payment terms. Payment terms for large farms are normally from six to nine months and for family farms, three to six months
The largest producer owes its suppliers more than RMB 20 billion (€ 2.6 billion)…
There is a clear trend in specialisation in pig industry in China. Farms are either specialising in raising breeding pigs, boars, piglets or finishers
Large farms feed pigs with automatic equipment (for feed and water) to reduce personnel cost and reduce the risk of African Swine Fever (ASF) and other diseases.